Wild Singing
is your opportunity to sing, outdoors, in the wonderful landscapes of Wiltshire
Singing outside
The benefits to our health and wellbeing of spending time outdoors are well documented. So are the benefits of singing. Just imagine what a combination of the two might feel like... Those of you who do either - or both, but not at the same time - may already recognise the potential. For the uncertain, why not come along and find out for yourselves.
After one Wild Singing meeting we were sent this message:
"What a perfect way to spend a rainy afternoon. It was so joyful and lovely to be with everyone, singing among the trees and raindrops, in such a special place. Thank you for all your energy."
What to expect
After meeting at a communal area close to the location of the Wild Singing workshop, the group will walk the short distance to the singing ground. Here participants can relax, chat and explore until the workshop begins. Each workshop will begin with a short physical and vocal warm-up, followed by songs taught in three or four part harmony.
Usually the songs will relate to some element of the natural environment, the time of year perhaps or local fauna and flora, and all songs will be taught by ear, with no need to read music. As well as singing, there will be time to connect with nature, either by enjoying a short walk, or simply finding a private place to sit and listen to the birds, the wind in the trees or just to soak up the peace.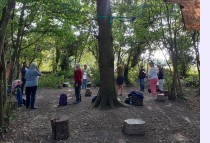 There will be plenty of breaks for those distracted by the living world around them and those with a burning desire to explore further.
Our workshops are aimed at adults and we want you to be able to enjoy singing without feeling responsible for anyone else. So, while we would welcome singing-loving teenagers we would prefer that you leave your younger children at home to enjoy some time & space without you.
Access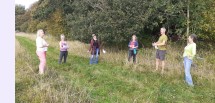 Wild Singing workshops are open to all, however the nature of nature, means that access can be tricky for people with more limited mobility. Please contact us in advance if you think this might impact on your participation and we will do everything we can to support you.
Preparation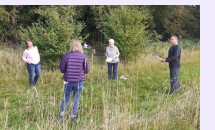 Please dress appropriately for spending time outdoors, and make sure you wear clothing that will keep you warm and dry (far better to shed a few layers if you're too hot than be distracted and miserable because you are cold), and don't forget those extremities, toes get very cold in wellies, so wear warm socks.
Bring something to drink, and if you know you'll need to sit down at times, please bring a cushion or a folding chair.
Please see our
Calendar
for upcoming sessions.
Wild Singing, December 2020